Products: Video Proxy Server
Floripa's Video Proxy Server allows broadcasters to store low-resolution proxies of their video assets in a single location for fast searching and viewing. The applications of the Video Proxy server are many, starting with close integration with Floripa's DubCentral solution. Traffic employees can quickly search and verify content from multiple sources in one location; master control operators can use it to prep video through DubCentral's automatic ingest solution; and the promotions department can verify that the version of a promo in play-out servers and compare it to the version in Floripa's PromoBox.
Some of the key feaures of the Video Proxy Server include:
Ability to transcode and store thousands of commercials and promos.
Web-based system accessible through a web browser from remote locations.
Compatiblity with most popular browsers (Internet Explorer, Firefox, Safari, and others) on Windows or Macintosh computers.
Ability to review promos from any location, when coupled with Floripa's PromoBox.
Contact us today to schedule a demo.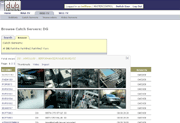 Traffic, sales, accouting, promotions, and master control operators can search all catch servers and play-out servers in a single location. Users can quickly access thumbnails or watch the video for all content.
Supported systems **
Commercial delivery systems
Centaur Exchange HD/SD Native™
DG FastChannel® SpotCentral®
DG FastChannel® Pathfire®
Level 3SM Vyvx®
On The Spot Media EZSpot©
Others *
Promo delivery systems
Play-to-air servers
Pinnacle Systems® MediaStream
Grass Valley K2, Profile XP, PDR Series
Harris® Nexio™
Omneon Spectrum™
SeaChange® BMS, BMC
Others *
* NOTE: Contact Floripa Integration for details.
** All trademarks are the property of their respective owners.