Products: DubCentral
DubCentral is a web-based, multi-channel ingest solution that seamlessly integrates dozens of systems and services. DubCentral manages catch severs, imports traffic and promo dublists, and communicates directly with leading transcoding services.
DubCentral cal also be used to manage promo production including house number rotations. When coupled with Floripa's PromoBox, each promo's version is compared against the automation system to ensure that old material does not remain in play-out servers.
Some key features include:
Centralized search of all catch servers and play-out servers
Immediate access to thumbnails and low-resolution video proxies
Automatic ingest of content using traffic dulists
Web-based prepping using low-resolution proxies
Easy-to-use automatic ingest interface
Delivery-to-ingest-to-purge, tape, satellite, and file-based workflow
Accountability: "who, where, and when"
Traffic and promo dublist integration
Direct integration with leading automation, traffic, and video transcoding systems
Active directory support
Secure SSL web server
Red Hat Enterprise Linux Server with built-in firewall
Promo management features:
Management of all promo material meta data including dub and purge dates
Integration with Floripa's PromoBox
Version and file date verification to avoid airing old material
Generation of daily dub and purge lists for master control
Contact us today to learn more about DubCentral or to schedule a demo..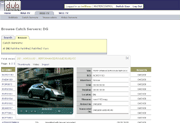 Master control operators can view, prep and initiate the ingest process through dublists or directly through a centralized catch server browser.
Supported systems **
Commercial delivery systems
Centaur Exchange HD/SD Native™
DG FastChannel® SpotBox HD Xtreme™
Level 3SM Vyvx®
On The Spot Media EZSpot©
Extreme Reach
Javelin
Hula Media Exchange™
Others *
News/syndication delivery systems
Pathfire™ Digital Media Gateway™
Warner Bros./Ascent Media/CBS - Pitch Blue™ *
Play-to-air servers
Pinnacle Systems® MediaStream
Grass Valley K2, Profile XP, PDR Series
Harris® Nexio™
Omneon Spectrum™
SeaChange® BMS, BMC
Others *
Video transcoding systems
Telestream FlipFactory®
Rhozet™ Carbon Coder™
Anystream Agility®
Automation systems
Harris® ADC™
Avid Sundance Digital®
Crispin®
Florical®
Omnibus®
Others *
Traffic systems
Wide Orbit WO Traffic
Harris® OSi-Traffic™, Bias, Columbine, BMS
VCI Solutions Orion®
Others *
* NOTE: Contact Floripa Integration for details.
** All trademarks are the property of their respective owners.