Products: Spotloader™
Spotloader™ is a web-based solution that manages the upload, approval, and delivery of media files for broadcasters.
No more FTP servers, email links, and files that do not meet your requirements!
Spotloader™ can be coupled with Floripa's DubCentral to manage the ingest of all receive files from every source, including national distribution companies and FTP servers. It also works seemlessly with transcoding and ingest products from Telestream, Harmonics, Imagine Communications, and other vendors.
Key features and benefits:
Turnkey cloud solution (hybrid and/or on-premise models also available).
Friendly user interface quickly mastered by broadcasters, agencies, and production facilities alike.
Media validation engine customizable to each client's needs (30+ parameters available, including file formats, audio levels, and closed captions).
Redundant cloud storage.
Review and approval workflows, including proxy videos and thumbnails.
Proof of delivery with actual delivery times.
Open API, allowing future integrations with other systems.
Easily share content (such as promos) across facilities.
Hub ready: configurable for multiple traffic/one BOC, one traffic/multiple BOCs, multiple promo production centers, stand-alone MAM, and anything in between.
Enhanced security:

SSL-encrypted transactions.
Only validated media files are transferred across facilities.
MD5 checksum validation at each file transfer.
No inbound ports must be open in your firewall.
Permission-based access across accounts and departments.
Optional modules and features:
Transcoding into a wide variety of formats from a single source (upload only once!).
Multi-cloud: even more redundant than redundant cloud storage.
Closed captioning insertion and proofing.
Enhanced creative workflows.
Additional custom development available upon request.
Find out today why dozens of broadcasters have adopted the Spotloader™ way.
Contact us today to learn more!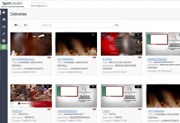 Find out today why dozens of broadcasters have adopted the Spotloader™ way.
Deploy a Spotloader Demo:
Enter your email address:

Integrated Workflows
Some examples of existing integrated solutions:
Floripa DubCentral
Telestream Vantage®
Harmonics ProMedia Carbon® (Carbon Coder)
WideOrbit® Traffic
WideOrbit® Programmatic
OSi® Traffic
Custom promo production and distribution systems